Learn how to use Musskema.dk to manage your competence development courses, so you get the most "value for money"
1. Go to the Competence Development module. Here you have following options:
Red arrow: See ongoing progress.
Green arrow: Start a new course.
Yellow arrow: Search the dialogs.
Purple arrow: Via the green 'Menu' button you can go directly to your agreements entered into in the competence development module.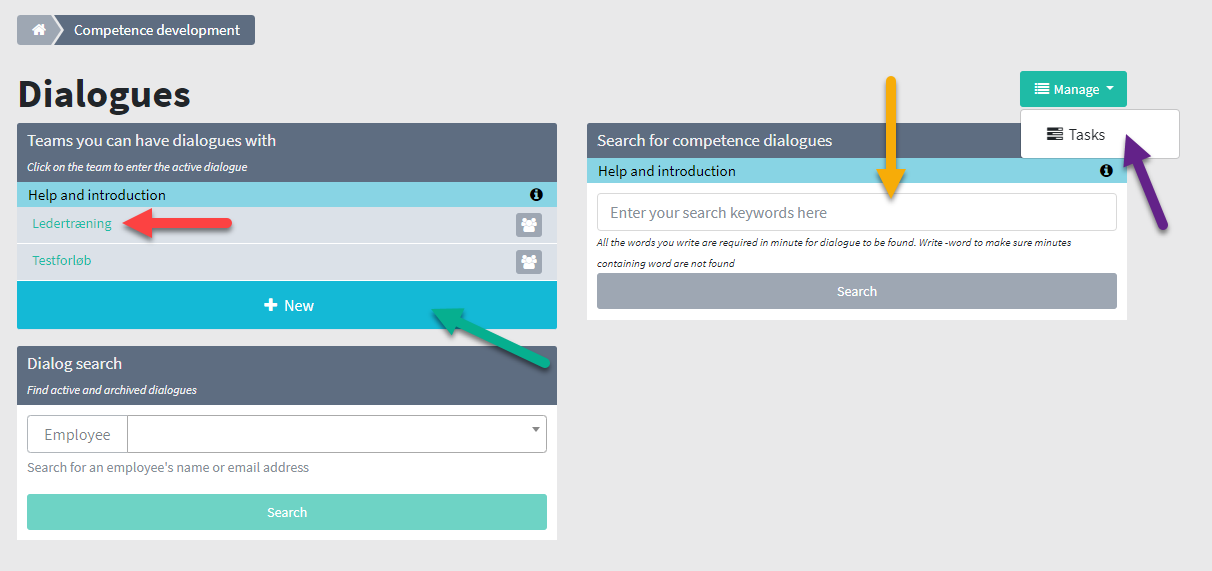 Start a competence development course
1. Click on 'New' (red arrow).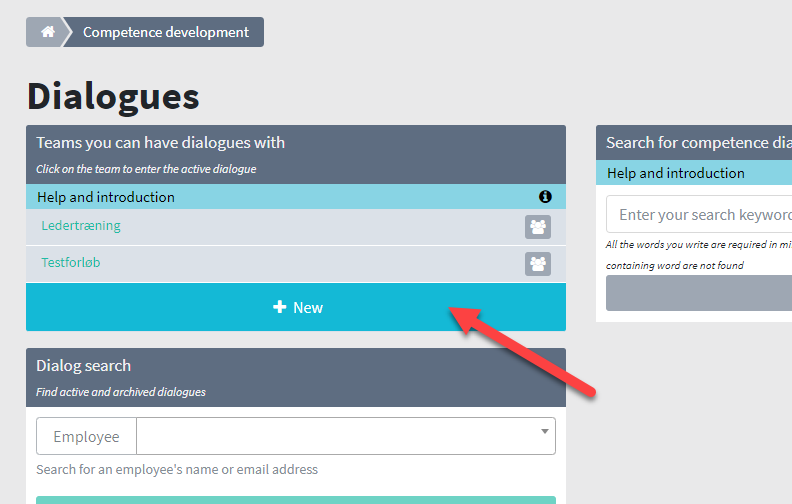 2. Then name the course and select the employee/employees.
3. Once the dialog has been created, you have following options:
Green arrow: The first form that appears is about the approval of the competence development course. Click on it to get directly to the form.
Yellow arrow: You can delete the course.
Red arrow: Clicking on 'Details' unfolds the box. Here you can see details and rename the course (purple arrow).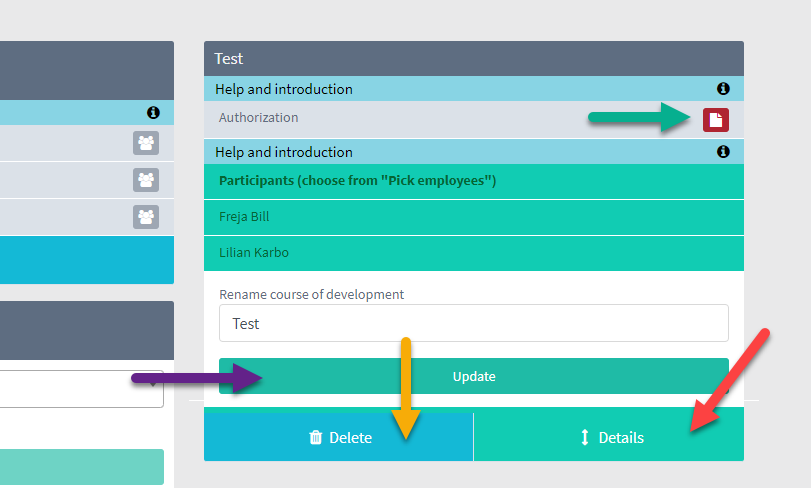 4. Have a dialogue with the participants and fill in the minutes. Click on the speech bubble next to each question to open them up (red arrow). For each question, an internal report can be written, which can only be seen by the participants (purple arrow), and a public report, which is available to everyone in the organization (yellow arrow). If you have previously written minutes in the form, you will find it under history. The minutes are automatically saved along the way, but they only end when you click on 'Finish and send an answer' at the bottom of the form.
5. You can create tasks by clicking on the 'Appointments' tab (red arrow). Fill in the fields (yellow dotted arrow) and click 'Save'. By deadline, both manager and employee receive an email reminding them of the task.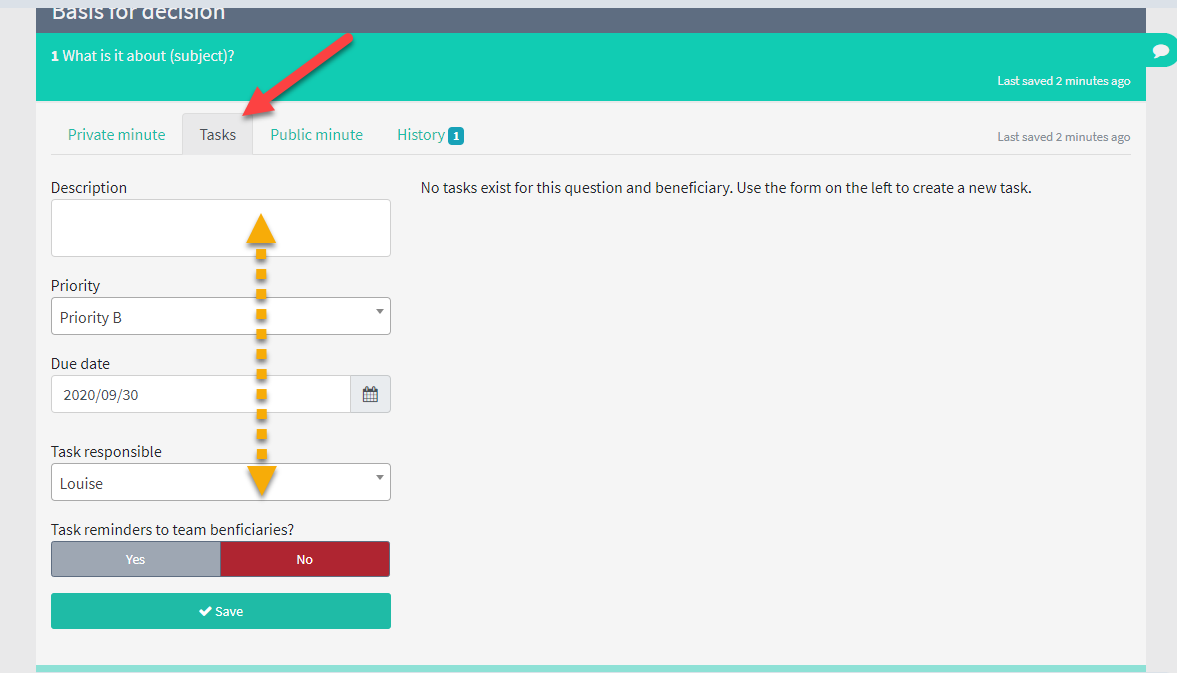 6. When the minutes 'Authorization' is completed, it is possible to define the start and end date of the course by clicking on 'Details'. Based on the selected start date, future forms appear automatically, based on the module setup. The manager receives an email when it's time for the next dialogue.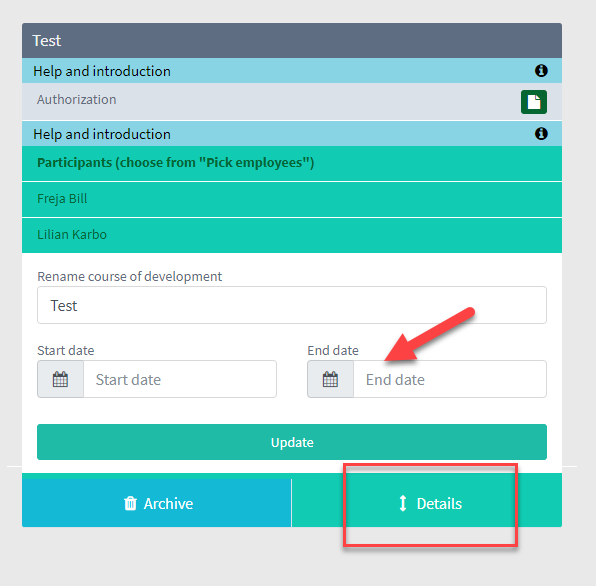 7. When the process is completed, you can archive it (red arrow), after which it will in future be in the archive (green arrow).