Back in January 2020, Jørgen Skovhus Haunstrup started as Head of Development at Evovia. His first project will be an industrial PhD to research and document the effects of analogue and digital leadership tools in the dialogue between manager and employee. The PhD project is a collaboration with Crown Prince Frederik's Center for Public Management at Aarhus University and is funded by Innovation Fund Denmark.
Leadership Tools: Visionary Leadership and Organizational Performance (LEVO)
The purpose of the PhD project is to contribute with knowledge that can help managers in the public sector become even better managers and thereby create even better results. A central part of the PhD project is the research project LEVO, which is an 18-month field experiment with 225 job center leaders from 34 municipalities.
The LEVO project examines whether leadership tools can promote specific types of desirable leadership behaviour. The project also examines whether, via the altered leadership behaviour, leadership tools have an impact on the satisfaction of the employees' basic psychological needs, their job motivation and the performance of the organization. Finally, the project examines whether the effect of analogue and digital leadership tools differ.
"Existing research indicates that it is a challenging and difficult task for most managers to maintain an active and goal orientated leadership behavior. There is a significant difference between the manager's intention to practice active management, and the management behavior the employees actually experience", Jørgen Skovhus Haunstrup says. Jørgen is leading the LEVO-project as an industrial PhD scholar and comes from a position as head of employment services in one of the largest municipalities in Denmark.
"For many years, we have worked with tools that help bring out the employee's voice – with focus on the dialogue. Therefore, it is very interesting to look into the effect of the manager's dialogue with the employees about their contribution to carry out the company's vision and objectives", continues Joachim Langagergaard, Master of Political Science and market director at Evovia, who will act as one of Jørgen's supervisors on the project.
A broad research collaboration
The research is a collaboration between Crown Prince Frederik's Center for Public Management at Aarhus University and Evovia and it is funded by the Innovation Fund Denmark with 1.1 million DKK.
"We have entered the collaboration because solid knowledge about how public management effectively creates value requires collaboration between researchers, practitioners of management as well as the skilled people who every day support the practicing of management e.g. through IT solutions. Therefore, we have several collaborations with consulting companies that are experts – in different ways – on supporting management in private and public organizations.
Collaboration on a PhD project is the most intensive way to work together and therefore has the biggest potential. Our expectations are that Jørgen Skovhus Haunstrup's PhD project will combine the best from the public sector with existing research as well as the deep understanding of employee and management development support, which Evovia represents", says center manager Lotte Bøgh Andersen and associate professor & deputy center manager Christian Bøtcher Jakobsen at Crown Prince Frederik's Center for Public Management.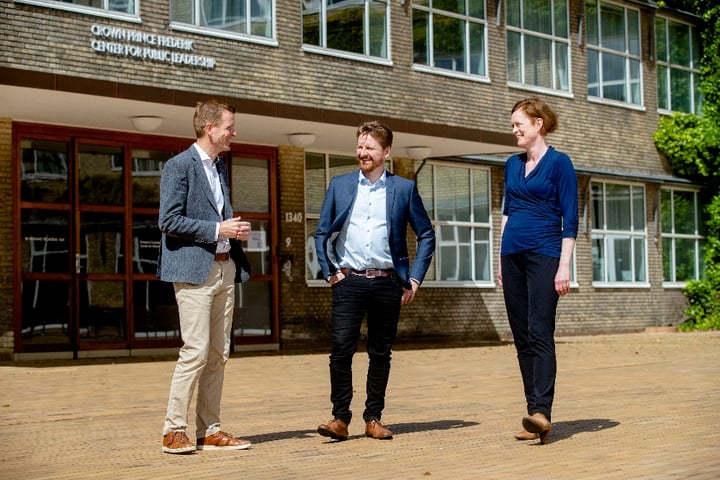 How the project will affect users and customers at Evovia
At Evovia we have for years advised on and gathered practical experience with good and acknowledging dialogues between managers and employees within a broad range of companies, organizations, and industries. It is our experience that our digital tool Evovia helps managers to prepare and qualify the developing dialogues while at the same time facilitating the important follow up.
This research project makes is possible to document the effect of these dialogues – not just through practical experiences and subjective opinions, but through solid research and objective results. In the research project, we look into both analogue and digital leadership tools, since there has not yet been made research on how such leadership tools support the management efforts and affects work engagement and organizational performance. With the knowledge this PhD project brings to light, we can in the future give even better advice to our users and customers.
This also challenges us to continue to develop Evovia and connect it to scientific research.
"In a dialogue preceding the PhD project, we were challenged with the question: What do you do if the results show that good dialogue and digital leadership tools do not promote good management and performance? We responded right away: In such case, we will develop and rethink our tool. Evovia is deeply connected to good leadership and we always strive to offer a tool that helps leaders become the leader they wish to be", says CEO and founder Poul Langagergaard, who considers this research project a milestone in the company's history.